Black Walnut Cake
| | |
| --- | --- |
| Recipe Type: | Non Veg. |
| Difficulty: | Easy |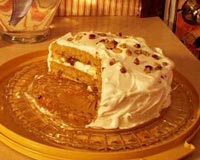 Ingredients:
1/2 Cup chopped black walnuts
1/2 tsp Vanilla extract
1/2 tsp Baking powder
1 Cup milk
3 Cups all-purpose flour
1 Cup butter, softened
1/2 Cup shortening
3 Cups sugar
1 tsp Ground cinnamon
5 Eggs
Cooking Instructions:
In a medium bowl, cream together the shortening, butter and sugar until light.
Beat the eggs, add the baking powder, flour and cinnamon; pour-stir into the creamed mixture.
Now, stir in the vanilla and walnuts, and pour into the pan.
Bake the dish for two hours at 350 degree F. All the cake to cool and then place it onto a wire rack to cool completely.
Black Walnut Cake is ready to serve.