Chocolate Chiffon Cake
| | |
| --- | --- |
| Recipe Type: | Non Veg. |
| Difficulty: | Easy |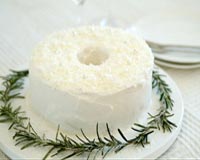 Ingredients:
1/2 Cup baking cocoa
2 Squares chocolate, unsweetened and melted
1-3/4 Cups cake flour
1-3/4 Cups sugar
1/3 Cup butter or margarine
1 tbsp Chopped nuts
7 Eggs, separated
1/2 Cup vegetable oil
3/4 Cup boiling water
2 tsp Vanilla extract
1-1/2 tsp Baking soda
1/4 tsp Cream of tartar
2 Cps confectioners' sugar
1-1/2 tsp Vanilla extract
1 tsp Salt
3 tbsp Hot water
Cooking Instructions:
In a medium bowl, add cocoa and water until smooth; and allow it to cool for twenty minutes.
In a mixing bowl, combine sugar, baking soda, flour and salt. Add vanilla, egg yolks, oil and cocoa mixture; beat until smooth and blends well.
In a different mixing bowl, beat egg whites and 1/4 cream of tartar; now fold into egg yolk mixture.
Pour into a tube pan and bake at 325 degrees F for an hour. Remove cake from the pan.
For the purpose of icing, in a medium saucepan melt butter. After removing from the heat; stir in chocolate, sugar and vanilla.
Make it sure to stir in enough water until desired consistency comes; drizzle over cake. Sprinkle with nuts.
Serve.