Chocolate Sponge Cake
| | |
| --- | --- |
| Recipe Type: | Veg. |
| Difficulty: | Easy |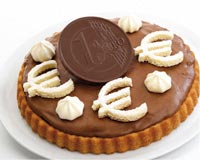 Ingredients:
4 tbsp Grated dark chocolate
1 Cup fresh whipped cream
1/2 Tin canned cherries and syrup
3 tbsp Powdered sugar
1/2 tsp Vanilla essence
Cooking Instructions:
With a hand beater, beat the fresh cream over a tray of ice cubes, make it sure not to over beat.
Fold in the sugar and vanilla essence and mix gently.
Put some icing in a icing gun and put the rest in a bowl. Keep the icing gun and the bowl in the refrigerator.
Cut the cake into two halves (horizontally) and place it on a tray. Dot it with two to three tbsp syrup of cherries on each cut cakes.
Smear the cream on lower half and transfer to a cake plate.
Add the cherries on the cream and save a few for topping.
Place the other half on top of the cup. With the help of icing gun decorate the top edging.
Spread the chocolate flakes all over the cake and decorate nicely with cherries.