Broccoli Spaghetti
| | |
| --- | --- |
| Recipe Type: | Non Veg. |
| Difficulty: | Easy |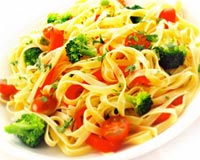 Ingredients:
1 Large head broccoli
1 Pound spaghetti
2 Cups meat shredded
Freshly ground black pepper
2 Garlic cloves, thinly sliced
1/2 tsp Red pepper flakes
1/4 Cup olive oil
1/2 tsp Kosher salt
Cooking Instructions:
Cook one pound spaghetti as per the label directions.
Drain and reserve 1/2 cup cooking water.
Cut and peel broccoli stalk and slice it thinly crosswise.
Chop the remaining portion of the broccoli into small florets.
Heat half of the olive oil in a skillet over medium heat.
Add broccoli, garlic and half the salt.
Simmer till the garlic turns light brown and the broccoli become tender.
Add the shredded chicken, pasta, pasta water, remaining 1/4 tsp salt and a few grinds of pepper.
Cook for about 3 minutes.
Add red pepper flakes and toss to mix well.
Sprinkle with the oil.
Serve Broccoli Spaghetti with crispy garlic bread.