Pasta Carbonara
| | |
| --- | --- |
| Recipe Type: | Non Veg. |
| Difficulty: | Easy |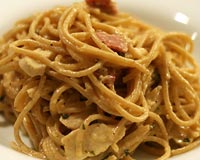 Ingredients:
1 Pound spaghetti
6 Strips bacon, diced
1/4 tsp Black pepper
1/2 Cup flat-leaf parsley, chopped
4 Egg yolks
1 Cup grated Parmesan
1/2 tsp Kosher salt
Cooking Instructions:
Cook the spaghetti as per the package instructions.
Fry the bacon in a skillet over medium heat.
Put the fried bacon on a paper towel. Reserve the drippings.
Beat the egg yolks in a large bowl.
Add 2 tbsp of the drippings while whisking the egg constantly.
Add the Parmesan and drained pasta to the egg yolk mixture.
Toss to mix.
Add parsley, bacon, pepper and salt.
Serve immediately.