Payesh
| | |
| --- | --- |
| Recipe Type: | Veg. |
| Difficulty: | Easy |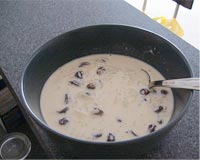 Ingredients:
200 gms Rice
2 Litres milk
1/2 tsp Cardamom powder
1/4 tsp Nutmeg powder
200 gms Soft jaggery
2 tbsp Chopped pistachios
2 tbsp Chopped almonds
6 Strands of kesar
Cooking Instructions:
Wash 200 gms rice and leave it for drying.
Boil the milk for about 15 minutes.
Add rice. Cook till rice is well done and milk becomes thick.
Add cardamom powder, kesar and nutmeg powder.
Add jaggery now. Stir till jaggery melts.
Take out from the fire.
Garnish with chopped almonds and pistachios.
Payesh is ready.