Pineapple Cake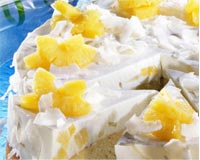 Ingredients:
1-1/2 cup Flour
1 cup Pineapple juice
1 cup White sugar
1 tsp Baking powder
1 tsp Baking soda
1/2 tsp Salt
1/2 tsp Vanilla
1 tbsp White vinegar
5 tbsp Vegetable oil

For Icing

2-1/2 Cup flour
1/4 Cup crushed pineapple
1 Cup icing sugar
1/8 tsp Powdered ginger
1/2 Cup milk
1/4 Cup butter
1/2 Cup cream cheese
1/4 tsp Salt
Cooking Instructions:
Mix flour, baking powder, baking soda, salt and sugar in a bowl.
Heat the pineapple juice in a saucepan to lukewarm temperature.
Put a small quantity of crushed pineapple in pineapple juice.
Add vegetable oil, vanilla and vinegar to the mixture of flour, baking powder, baking soda, salt and sugar.
Pour lukewarm pineapple juice into the above mixture immediately.
Now beat the whole mixture.
Preheat the oven at 350 F for 10 minutes.
Pour the whole batter into a pan.
Heat it for 30 minutes at 350 F.
For Icing, mix flour, powdered ginger and milk in a saucepan.
Cook the mixture at medium heat, stirring it constantly.
Heat the mixture until it converts into thick paste.
Let the mixture cool to lukewarm.
Mix butter, cream and crushed pineapple in a bowl.
Put the lukewarm paste, salt and icing sugar in the mixture of butter, cream and crushed pineapple.
Beat it until it becomes fluffy.
Refrigerate it for an hour for firming up the icing.
Keep the icing now on the cooled cake.
Pineapple cake is ready.