Vanilla Cake
| | |
| --- | --- |
| Recipe Type: | Non Veg. |
| Difficulty: | Difficult |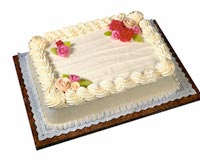 Ingredients:
1 Cup sugar
2 Eggs
Vanilla extract
1-1/2 Cup cake flour
2-1/2 tsp Baking powder
1/4 tsp White vinegar
1/4 tsp Salt
1/3 Cup oil
1/3 Cup milk
Cooking Instructions:
Mix the cake flour, baking powder and salt in a bowl.
Then, mix the egg yolk, 1/2 cup sugar, Vanilla extract and milk in other bowl.
Add oil to the mixture of egg yolk, sugar, Vanilla extract and milk and mix well.
Mix the mixtures of both bowls.
Mix the egg white, remaining sugar and vinegar separately till it becomes fluffy.
Add the mixture to the previous one and mix them well.
Preheat the oven at 375 degrees.
Bake the mixture for 25 minutes in preheated oven.
Vanilla Cake is ready.