Corn Balls
| | |
| --- | --- |
| Recipe Type: | Veg. |
| Difficulty: | Easy |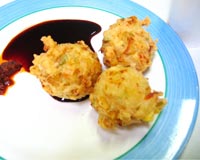 Ingredients:
1 Teacup boiled corn
4 Boiled potatoes
4 tbsp Grated cheese
4 Green chillies
2 tbsp Coriander
225 gms Paneer
Breadcrumbs
1 Teacup maida
Chilli sauce
2 Teacups milk
4 tbsp Butter
4 tbsp Maida
Salt to taste
Oil
Cooking Instructions:
Melt the butter in a pan and seethe the flour for about half minute.
Pour the milk into it and cook till the sauce becomes thick.
Chop the paneer and potatoes.
Mix the corn, cheese, potatoes, green chillies, paneer, coriander and the above prepared sauce.
Add salt and mix well.
Make the balls. Mix the flour thoroughly in 1-1/2 teacups of water.
Dip the balls in flour paste.
Roll the balls in breadcrumbs.
Deep-fry these balls in oil.
Cornballs are ready to serve.