Vegetable Pulav
| | |
| --- | --- |
| Recipe Type: | Veg. |
| Difficulty: | Average |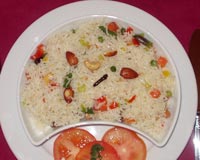 Ingredients:
1/2 Cup chopped onions
1/2 Cup chopped tomatoes
1/2 Cup cauliflower
1/3 Cup carrot chunks, cut Beans, shelled peas
1/2 Cup grated coconut
1/4 Cup mint leaves
1 tsp Chopped ginger, garlic
3 to 4 Green chilli
1/4 Cup cilantro
1/2 tsp Red chilli powder
2 Cups uncooked rice
Two 1 inch cinnamon sticks
4 Cardamon
6 Bay leaves
Garam masala accoding to taste
Cooking Instructions:
Soak the rice in water for ten minutes and then drain.
Take one tablespoon of oil in a pan.
When the oil is hot, add the rice to it and fry for some time.
Grind coconut, ginger, garlic, mint, cilantro, garam masala, green chilli and red chilli. powder with some water together.
Heat two tablespoon of oil in the cooker.
When it is hot, add some cummin seeds, cinnamon, cardamon and bay leaves.
Stir for a while and add chopped onions to it.
Stir the onion till it is golden brown.
Add the chopped tomatoes and ground paste.
Add the vegetables after frying for a minute.
Add rice and water then.
Cook in the cooker till two whistles.