Curry Noodle
| | |
| --- | --- |
| Recipe Type: | Non Veg. |
| Difficulty: | Average |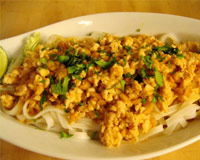 Ingredients:
150 gm Chicken or pork, cut into small pieces
120 gm Fresh egg noodles (spaghetti may be substituted)
1 cup Pickled cabbage (chopped)
2 L Coconut milk
3 tbsp Cooking oil
2 tbsp Garlic (chopped)
2 tbsp Red curry paste
1 tbsp Curry powder
1 tbsp Turmeric powder
2 tbsp Sugar
3 tbsp Shallots (chopped)
3 tbsp Spring onions (chopped)
1 Lemon, cut into wedges
3 tbsp Fish sauce or salt to taste
Cooking Instructions:
Put oil in a pan and fry garlic until it turns golden.
Now add curry paste, fry for a moment and then add curry powder, turmeric and chicken.
Pour down coconut milk, fish sauce and add sugar and cook in low flame.
Now, in another pan add water to boil.
Cook egg noodles in it for a while and drain water.
To serve, spread curry on top of noodles and top it with shallots, pickled cabbage, spring onions and lemon.