Vegetable Fried Rice
| | |
| --- | --- |
| Recipe Type: | Veg. |
| Difficulty: | Average |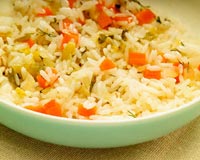 Ingredients:
3 cups Water
1 1/2 cups Rice
2 tbsp Peanut Oil
1 small Onion, chopped
1 small Capsicum, chopped
1 tsp Garlic, minced
1/4 tsp Red Chili Powder
3 Spring Onions, thinly sliced
3 tbsp Soy Sauce
1 can Baby Peas, drained
2 tsp Sesame Oil
1/4 cup Peanuts, roasted
Cooking Instructions:
First boil water in a saucepan and add rice to it. Cover the pan and allow it to simmer on a low flame for about 20 minutes.
In the meantime, heat peanut oil in a large wok on medium flame. Add onions, bell pepper, garlic and red chili powder and cook it for about 3 to 4 minutes.
Now, increase the flame to medium high and add cooked rice spring onions and soy sauce. Fry the mixture for about a minute.
Now, add peas to it and cook for about a minute more. Thereafter, remove the wok from the flame and add sesame oil. Mix well and garnish with peanuts.
The delicious vegetable fried rice is ready to be served!!