Gujia
| | |
| --- | --- |
| Recipe Type: | Veg. |
| Difficulty: | Average |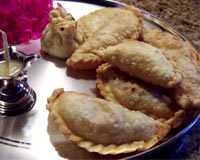 Ingredients:
1 kg Khoya
500 gms Sugar
500 gms Maida
200 gms Almonds, chopped
6 tbsp Cooking oil
3 tbsp Raisins
200 ml Water
Cooking Instructions:
Combine maida with 6 tbsp of oil using your fingers.
Make soft dough and knead it lightly. Add water if needed.
Cover with a wet cloth and leave aside.
In a frying pan, deep-fry the khoya till light brown in color.
Add chopped almonds, sugar and raisins and mix well.
Fry again for few minutes. Allow the mixture to cool.
Prepare a small and thick chapati from the kneaded dough.
Stuff half of the chapati with the khoya mixture.
Fold and draw the edges of chapati inwards to close.
On slow fire, deep-fry the gujia till golden brown.
Take out using a sieve and drain the oil properly.
Store them in an airtight container.
Repeat the procedure with remaining dough.