Oyster Pie
| | |
| --- | --- |
| Recipe Type: | Non Veg. |
| Difficulty: | Average |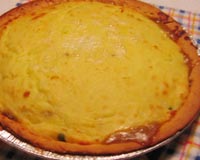 Ingredients:
4 Cups drained oysters
4 Cups oyster crackers, roughly crumbled
1/2 Cup heavy cream
6 tbsp Small butter pieces
Ground black pepper as per taste
Salt to taste
Cooking Instructions:
Strain the drained oysters and reserve liquor.
Lightly smear a pie plate with butter and spread 1 cup crumbled oyster crackers over the bottom.
Evenly sprinkle 1 cup of oysters over the crumb layer.
Sprinkle with black pepper and salt.
Make layers of oysters and crackers three more times, applying each oyster layer with little pepper and salt.
Combine together heavy cream and 1/2 cup oyster liquor.
Pour this mixture evenly over the top layer of oysters.
Top with butter pieces.
Heat an oven to 400 degree F.
Allow the pie to set for about 10 minutes.
Place the oven rack just above the center.
Put the pie on top rack and bake for 15 minutes until light brown.
Bring the oven temperature to broil (550 degree) and broil for 3 minutes.
Oysters Pie is ready.