Oyster Scallop
| | |
| --- | --- |
| Recipe Type: | Non Veg. |
| Difficulty: | Easy |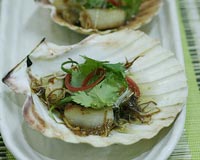 Ingredients:
1 Cup oyster liquor
5 Cups saltine crackers, coarsely crumbled
2 tbsp Fresh parsley, chopped
1 Medium onion, chopped
1-1/2 tsp Worcestershire sauce
1-1/2 Cups butter
1-1/2 tsp Celery salt
Juice of 1 lemon
1/2 Cup milk
1/2 Cup light cream
Pepper to taste
Cooking Instructions:
Melt the butter and saute onions till tender.
Add parsley, Worcestershire sauce, celery salt, pepper, lemon juice, and crackers.
Smear a casserole with butter and arrange a layer using one-third of the crumbs. Arrange a layer of half of the oysters over it.
Repeat the layers alternatively with remaining crumbs and oysters.
Combine together the oyster liquor, milk and cream.
Pour this mixture over the layers.
Bake it for about 40 minutes at 350 degree F.