Oyster Sandwich
| | |
| --- | --- |
| Recipe Type: | Non Veg. |
| Difficulty: | Easy |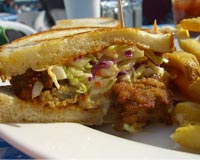 Ingredients:
24 Ounces oysters, drained
1 Loaf French bread
1 Large tomato, thinly sliced
1/4 Cup butter, softened
1 Cup cornmeal mix vegetable oil
1 tbsp Lemon juice
1 Cup lettuce, shredded
1/8 tsp Hot sauce
1/3 Cup Mayonnaise
2-1/2 tbsp Sweet pickle relish
Cooking Instructions:
Cut off one third of the loaf from top.
Scoop out the bottom portion and reserve the crumbs.
Apply butter on the inner surfaces of bread.
Keep the bread on a baking sheet and bake till light brown.
Heat the vegetable oil. Drop and fry the oysters in hot oil until golden brown. Remove and drain well on paper.
Mix pickle relish, hot sauce, mayonnaise, and lemon juice. Stir well.
Fold in the lettuce. Spread this mixture over hollowed bread.
Top with oysters, tomato slices, and remaining portion of loaf.
Chop the loaf into portions for serving.