Oysters Casino
| | |
| --- | --- |
| Recipe Type: | Non Veg. |
| Difficulty: | Easy |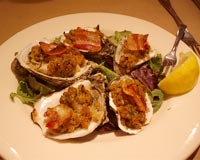 Ingredients:
24 Oysters
1/4 Cup parsley, finely chopped
1/4 Cup celery, chopped
1/4 Cup green pepper, chopped
1/2 Can sweet butter
12 Pieces bacon, half cooked
1/3 Cup shallots, finely chopped
1/2 tsp Pimiento, chopped
1 Lemon
Cooking Instructions:
Preheat an oven to 450 degrees F.
Place the oysters on a baking pan with a deep layer of rock salt.
Shell side of the oysters should be embedded in the rock salt.
Remove seeds and membranes from the pepper before chopping.
Mix together the parsley, shallots, celery and green pepper.
Squeeze the lemon into the mixture.
Cream this mixture thoroughly.
Place small amounts of the mixture on each oyster.
Put 1/2 tsp of pimento and a bacon piece on each oyster.
Bake for about 5 minutes until the bacon pieces turn brown.