Roasted Chicken
| | |
| --- | --- |
| Recipe Type: | Non Veg. |
| Difficulty: | Average |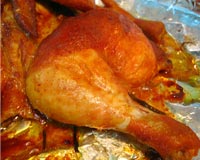 Ingredients:
1.8 Kg Chicken
1 tbsp Vegetable oil
2 tsp Black pepper
2 tsp Salt
1 Cup Water
Cooking Instructions:
Preheat oven to 450 degree F.
Keep the rack in a small roasting pan.
Take the chicken and rinse it.
Dry the chicken and put it in the pan.
Insert the wings under the chicken.
Smear the chicken skin with oil.
Sprinkle with pepper and 1/2 tsp of salt.
Roast for about 20 minutes.
Add one-cup water and roast again for 40 minutes or until the chicken is well done.
Loosen the chicken with a spatula.
Transfer the cooked chicken to a cutting board with the help of a paper towel.
Set aside for 15 minutes before carving.
Roasted chicken is ready.