Shrimp Primavera
| | |
| --- | --- |
| Recipe Type: | Non Veg. |
| Difficulty: | Average |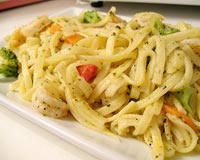 Ingredients:
10 Shrimps, de-veined, peeled, and chopped
6 Stalks asparagus, chopped into one inch pieces
1/3 Pound egg noodles
1 tbsp Onions, finally chopped
1 Cup heavy cream
2 tbsp White wine
2 tbsp Red bell peppers, chopped
1 Roma tomato, chopped
1 tsp Tomato paste
1 tbsp Parsley, chopped
1 tsp Basil, chopped
2 Cloves garlic, minced
1 tsp Chives, chopped
1 tbsp Parmesan cheese, grated
1 tbsp Butter
1 tbsp Olive oil
Pinch of pepper
Cooking Instructions:
Cook the egg noodles in salted water.
Rinse with cold water and leave aside.
Combine together the shrimp base, tomato paste, and heavy cream in a sauce pan.
Bring the mixture to boil, stir constantly to integrate the base and paste.
Boil till the mixture is reduced to half.
Meanwhile, heat butter and olive oil in a frying pan.
Add tomato, asparagus, onion, garlic and red pepper and fry for 3-4 minutes.
Add shrimp and wine. Simmer for about 2 minutes.
Now add sauce and cooked pasta. Mix well.
Combine together the Parmesan cheese, fresh herbs, and pepper.
Pour the dish into two plates.
Garnish with cheese and herb mixture.