Asparagus Omelet
| | |
| --- | --- |
| Recipe Type: | Non Veg. |
| Difficulty: | Easy |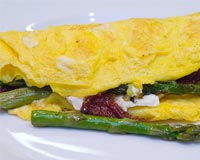 Ingredients:
6 Eggs
10 Ounces asparagus, chopped into pieces
4 Bacon slices, chopped into half inch pieces
1/3 Cup Parmesan cheese, finely grated
4 Green onions, thinly sliced
1/4 tsp Black pepper, ground
1/2 tsp Salt
Cooking Instructions:
Steam the asparagus pieces for five minutes until tender.
Drain the pieces.
Whisk together the eggs, grated cheese, 1/4 tsp pepper and 1/2 tsp salt in a bowl.
In a large non-stick skillet, fry bacon pieces over high flame until golden brown. It takes about 3 minutes.
Add chopped onions and fry again until onions turn translucent.
Add asparagus and cook until heated through.
Reduce the flame to medium and spread the mixture in the skillet.
Take the egg mixture and pour it over asparagus.
Cook till eggs are softly set. Tilt the skillet to allow uncooked egg to flow underneath. Transfer the omelet to a plate and fold it.
Asparagus Omelet is ready to serve.