Aloo Capsicum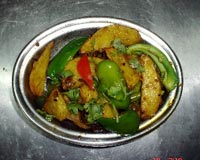 Ingredients:
4 Capsicums
2 Potatoes
1 Large chopped onion
1 Large chopped tomato
1/2 tsp Turmeric powder
1/2 tsp Red chilli powder
1 tsp Ground coriander
2 tbsp Oil
Salt to taste
Coriander leaves
Cooking Instructions:
Wash capsicum and potatoes and cut into pieces.
Heat the oil and fry chopped onion till it turns brown.
Add capsicum and potato and fry it for few minutes.
Add chopped tomato, turmeric powder,red chili powder,ground coriander and salt.
Mix it well and cook it till it turns tender.
Garnish it with fresh coriander leaves.
Serve hot with rotis.