Tomato Sauce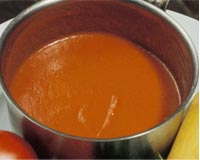 Ingredients:
2 kg Tomatoes
2 Cups sugar
1/2 tsp Red chilli powder
4 Garlic flakes
2 tsps Ginger
Salt to taste
Cooking Instructions:
Peel the tomatoes and cut it into pieces.
Chop the garlic and ginger.
Mix tomatoes with ginger and garlic.
Cook the mixture till it turns smooth.
Add salt, sugar and red chilli powder.
Cook it for 5 minutes.
Tomato Sauce is ready.