Yakhni Pulav
| | |
| --- | --- |
| Recipe Type: | Non Veg. |
| Difficulty: | Average |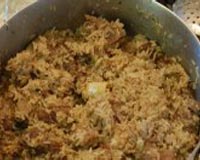 Ingredients:
1 kg Goat Meat/Lamb with bones, cut into 2" pieces
2 tbsp Garlic Paste
2 tbsp Ginger Paste
6 Green Cardamom
6 Cloves
1" piece Cinnamon
1 Black Cardamom
10 Black Peppercorns
1 tsp Cumin Seeds
2 tsp Coriander Seeds
1 large Bay Leaf
1 Star Anise
1 tsp Red Chili Powder
4 large Onions - 2 chopped fine, 2 sliced very thinly
3 tbsp Vegetable/ sunflower/ canola cooking oil
2 1/2 cups Basmati Rice, washed well
3 tbsp fresh Yogurt
Salt to taste
Cooking Instructions:
Put 6 cups of water in a pressure cooker.
Cut a piece of muslin cloth into a 6" square and place the cinnamon, black and green cardamom, cloves, peppercorns, star anise, coriander and cumin seeds, bay leaf and red chili powder in the center of this square.
Gather up the edges of the cloth and tie tightly to form a bundle.
Put this bundle in the pressure cooker.
Now, add the ginger, garlic pastes, meat and salt to the pressure cooker and close the lid.
Boil it around 10 mins or till the meat is almost cooked.
Remove the muslin bag and separate the meat from the stock and keep aside.
Heat the cooking oil and add the chopped onions in a separate pan. Fry till light golden.
Now add the meat, stock, rice and yogurt and mix well.
Cook on medium flame till the mixture comes to a boil, then reduce the flame to a simmer, cover and cook till the rice is done.
Turn off the fire and allow to rest for 5 minutes.
While the rice is resting, fry the sliced onions in cooking oil till golden. Drain and keep on paper towels.
Open the pan and stir the rice well, taking care not to break up the pieces of meat.
Garnish with fried sliced onions (optional) and serve piping hot with a vegetable raita or curry dish of your choice.