Chocolate Mousse
| | |
| --- | --- |
| Recipe Type: | Non Veg. |
| Difficulty: | Easy |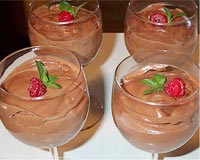 Ingredients:
200 gm Bittersweet Chocolate (melted and kept lukewarm)
3 tbsp Granulated Sugar
2 cups Heavy Cream
1 tsp Vanilla Extract
4 Egg Yolks
Cooking Instructions:
Heat 2/3 cup of cream in small saucepan over low flame until it just begins to steam.
In a separate bowl, whisk together the egg yolks and sugar.
Add half portion of the hot cream, whisking constantly, until the mixture is thoroughly combined.
Add the warm egg-cream blend back into the rest hot cream in the saucepan and cook over low heat, stirring constantly for a few more minutes.
Remove from the heat and stir in the vanilla extract and melted chocolate.
Chill the chocolate custard thoroughly.
Beat remaining 1-1/3 cups of cream in a separate bowl until stiff peaks form.
Thoroughly stir ½ cup of the whipped cream into the chilled chocolate custard, and then gently fold in the remaining cream.
Now thoroughly incorporated chocolate custard into the whipped cream and serve chilled.