Goan Vindaloo
| | |
| --- | --- |
| Recipe Type: | Non Veg. |
| Difficulty: | Average |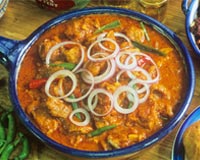 Ingredients:
1/2 kg Pork (cubed)
2 Large Onions (chopped)
10 Garlic flakes
10 Pepper Corns
1 Ginger
1 tsp Cumin Seed Powder
1/4 tsp Sugar
1/2 tsp Mustard Seed Powder
1/2 tsp Cinnamon powder
1/2 tsp Vinegar
2 Red Chilies
1 peg Coconut Feni
2 cups Water
Salt to taste
Cooking Instructions:
Put garlic, ginger and pepper corns in a grinder, to make a paste.
Add salt, cumin seed powder, mustard seed powder, cinnamon powder, vinegar, sugar and red chilies to the paste.
Take a dish and pour the prepared paste into it.
Keep the pork pieces in the paste and let them marinate for a few hours.
Heat the oil and fry the chopped onions till they turn golden brown.
Now add the marinated pork pieces to the fried onions. Fry them till pork turns soft.
Add coconut feni and few drops of vinegar to the pork.
Cook it for about 2 minutes.
Goan Vindaloo is ready. Serve it hot with rice.