Fish Salad
| | |
| --- | --- |
| Serves: | 4 |
| Recipe Type: | Non Veg. |
| Preparation Time: | 10 M |
| Cooking Time: | 15 M |
| Difficulty: | Average |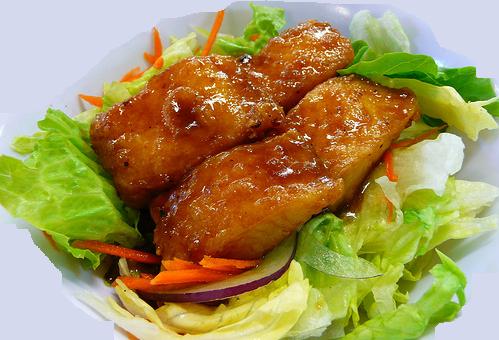 Ingredients:
1/4 inch thick fresh Ginger (unpeeled and sliced)
1/4 cup Soy Sauce
1/4 tsp Hot Pepper Flakes
3 tbsp Lime Juice
2 cloves Garlic (finely chopped)
2 tbsp Vegetable Oil
1 tsp Lime Zest (grated)
1/4 tsp Black Pepper
2 cups Bean Sprouts
1 1/4 pounds (0.56 kg) Cod or Halibut Steaks
1 tbsp Honey
4 cups (6 ounces) Chinese Cabbage (shredded)
4 cups Red Leaf Lettuce (shredded)
2 large Carrots (thinly sliced like matchsticks)
2 tbsp Sesame Seeds (toasted)
Cooking Instructions:
After lining a broiler pan with foil, lightly grease the foil with vegetable oil, and preheat the broiler.
Blend garlic, ginger, soy sauce, lime juice, oil, honey, lime zest, black pepper and hot pepper flakes in a processor to make a marinade.
Take half the marinade and apply it on the fish (on top side) and place it on the broiler.
Broil the fish for 5 minutes.
After 5 min, turn the fish over side and apply the marinade and broil for another 5 minutes.
Dress 4 plates with cabbage, lettuce, carrots and bean sprouts.
Cut the hot fish equally and place them on top of the greens.
Pour the remaining marinade on the hot fish and sprinkle sesame seeds on top of the salad.
Your fish salad is ready to be served.