Chicken Delight
| | |
| --- | --- |
| Serves: | 4 |
| Recipe Type: | Non Veg. |
| Calories Per Serving: | 620 |
| Preparation Time: | 20 M |
| Cooking Time: | 30 M |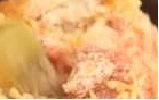 Ingredients:
1 cup (236 ml) Rice (uncooked)
Salt, Pepper, Sweet basil, Rosemary (to taste)
2 1/2 cups(591 ml) Chicken Broth
4 cups (946 ml) Cooked Chicken (Diced)
3 tbsp Butter
2 tbsp Oil
1 large Onion (chopped)
1 can Evaporated Milk (about 13 ounces)
Cooking Instructions:
Take a pan and put 1 tbsp of butter.
Add diced chicken on that and stir it until it becomes soft.
Now sprinkle with salt and herbs to taste.
Take another pan and melt some butter; stir-fry onions in butter until it turns brown.
Mix the cooked chicken and onion well.
Add rice evenly over top and add enough chicken broth to cover.
Now cook all the ingredients except milk about 20 min until it is done.
Now add evaporated milk and mix it well.
Cook for 10 min.
Suggestions: