Beef Keema
| | |
| --- | --- |
| Serves: | 3 |
| Recipe Type: | Non Veg. |
| Calories Per Serving: | 199 |
| Preparation Time: | 5 M |
| Cooking Time: | 20 M |
| Difficulty: | Easy |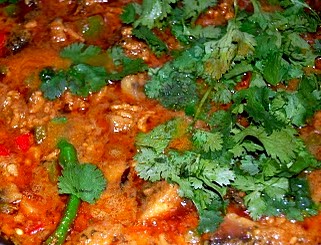 Ingredients:
2 ½ Onions (medium-sized) (finely chopped)
1 kg Beef (minced)
1 tsp Cumin Seeds
3 tbsp Sunflower Oil
1 tbsp Ginger (finely ground paste)
1 tbsp Garlic (finely ground paste)
1 tbsp Cumin Powder
2 tbsp Coriander Powder
1 tbsp Hot Spice (Garam Masala)
Salt to taste
1 Coriander small bunch (finely chopped)
2 ½ Tomatoes (medium-sized) (finely chopped)
½ Lime juice
Cooking Instructions:
Place the frying pan over a medium heat stove and pour the oil.
Turn the flame at lower mode and add the cumin seeds then stir fry it slight brown.
To it add the slices of onions and stir till it turns golden color.
Once it is done then sauté the ginger and garlic paste to it for two minutes.
For seasoning there goes next to it the hot spices, coriander and cumin powder with salt to taste.
Stir for a minute to fry then mix the minced meat.
Cook it for eight minutes until brown.
Top it over with sliced the tomatoes and cook till it melts soft.
Switch off the stove and pour the lime then mix it well.
Finally sprinkle the chopped coriander leaves over the meat for garnish.
Suggestions:
Best served with parathas or rotis.