andhra sambar
| | |
| --- | --- |
| Serves: | 4 |
| Preparation Time: | 10 M |
| Cooking Time: | 15 M |
| Difficulty: | Easy |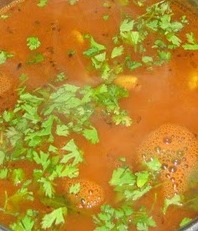 Ingredients:
Cucumber (small piece)
Potato (chopped)
1 Onion (Sliced)
3 Green Chillies (Split )
1 Tomato
2 Drumstick
8 Red Chillies
1 tsp Coriander Seeds
1 tsp Urud Dal
1 tsp Channa Dal
fenugreek
1tsp Jeera
¼ tsp Pepper
Tamarind
3 tbsp Coconut
1 tsp Khus khus
Dal (cooked)
Asafoetida (small piece)
Salt (to taste)
Cooking Instructions:
Roast red chilies, coriander seeds, rice, urud dal, channa dal, jeera, and pepper on a pan with little oil and mix them up well.
Grind coconut and khus khus separately.
Take a pan and cook cucumber using a glass of water.
Add green chillies, onion, and potato on the cooked cucumber.
After 5 minutes, add tomato and drumsticks into the same pan.
Once these ingredients are cooked thoroughly, add cooked dal, ground coconut and khus khus, little turmeric and asafoetida.
Two minutes later, add powdered masala, tamarind and salt.
Keep boiling the ingredients till the gravy thickens.
Finally put fenugreek and curry leaves for seasoning it.
Suggestions: