Chinese Cauliflower
| | |
| --- | --- |
| Serves: | 4 |
| Recipe Type: | Veg. |
| Preparation Time: | 40 M |
| Cooking Time: | 20 M |
| Difficulty: | Average |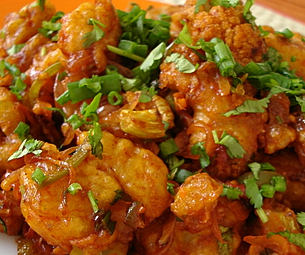 Ingredients:
1 Cauliflower (medium sized)
1 tsp Chili Powder
3 tsp Corn Flour
¼ tsp White Pepper
1 Red Onion (sliced)
1 Capsicum (green bell pepper) (chopped into big pieces)
1 Green Chili (finely minced)
1 tsp Ginger-Garlic (paste)
¼ cup Spring Onion (finely chopped)
1 tsp Soya Sauce
4 tsp Tomato Ketchup
2 tsp Chili-Garlic sauce
3 drops Vinegar
4 tbsp Oil
Salt to taste
1 pinch Msg (glutamic acid) (flavor)
Cooking Instructions:
Cut the cauliflower into small buds/flowers.
Wash the cauliflower buds and drain the water.
While they are still wet, add the chili powder, corn flour, white pepper powder, msg, and few drops of vinegar [Toss till the cauliflower is well coated].
Shallow fry the cauliflower buds in the oil, till they turn lightly brown and crisp on the outside. [Stir constantly, taking care that the cauliflower doesn't stick to the bottom of the pan].
Strain and keep aside.
In a separate pan, heat the remaining oil, and fry the onions till it turns brown.
Add bell peppers, spring onions, green chilies and ginger garlic paste to it and stir it constantly for 5mins.
Add soy sauce, tomato ketchup, salt and the chili-garlic sauce to it.
Immediately add the fried cauliflower buds to it.
When the sauce coat the buds well and is almost dry, remove it from heat and serve it hot.
Suggestions:
Serve it hot with roti, rice/chapati