Chicken samosas
| | |
| --- | --- |
| Serves: | 5 |
| Recipe Type: | Veg. |
| Calories Per Serving: | 380 |
| Preparation Time: | 50 M |
| Cooking Time: | 10 M |
| Difficulty: | Easy |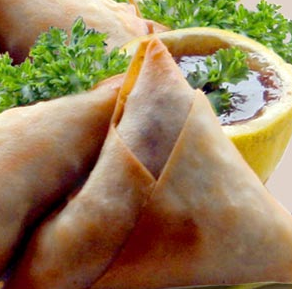 Ingredients:
3 cup Flour (Maida)
1/2 tsp Cooking Oil
Salt to taste
3 tbsp Butter
5 tbsp Water
3 cup Boneless Chicken Pieces (cut into small pieces)
2 tbsp Worcestershire Sauce
1 Onion (chopped)
1 tbsp Red Chili (powder)
1 tsp Turmeric Powder
1 tsp Coriander Powder
1 tsp Ginger Paste
1 tsp Garlic Paste
1/2 tsp Cumin Seeds
1 tsp Chat Masala Powder
1/2 tsp Gram Masala Powder
Cooking Instructions:
Mix the all-purpose flour and salt together in a bowl.
Add 3 tbsp oil to flour, add salt and mix it in well until the mixture turns soft [Set aside about 10 minutes].
Make a ball and rub the ball with about 1/2 tsp oil and slip it into a plastic bag [Set aside 20-25 minutes].
In a large bowl, add chicken boneless, ginger paste, garlic paste, cumin powder, chat masala powder, red chili powder, turmeric powder, salt, gram masala powder, coriander powder, and mix well.
Marinate in refrigerator for 30 minutes.
Heat oil in a pan; add chopped onion and sauté for 5 minutes on a low flame.
Add marinated chicken and cook until chicken is tender.
Kneed pastry dough again with hands and divide it into 10-12 balls [Keep all balls covered while you work on one at a time].
Roll each ball out into a 7 inch (18 cm) round. Cut it in half with a knife.
Pick up one half of the roll and from a cone out of it, making a 1/4 inch wide (5 mm) overlapping seam.
Glue the seam together with little water.
Fill the cone with about 2 table spoons of the chicken mixture.
Close the top of the cone by sticking the open edges together with a little water.
Again your seam should be about 1/4 inch (5 mm) wide.
Press the top seam down with the prongs of a fork or flute it with your finger [Repeat this prose for each ball].
Heat oil in a pan, and put in as many samosas as the pan will hold in a single layer.
Fry it slowly, by turning the samosas frequently until they are golden brown and crisp. Put each fried samosa on a paper towel to absorb any excess oil.
Now delicious chicken samosa is ready to serve.
Suggestions:
Serve hot with mint chutney, Imli ki chutney, raitaa, and salad.