Appam and Kadala Curry
| | |
| --- | --- |
| Serves: | 4 |
| Recipe Type: | Veg. |
| Calories Per Serving: | 256 |
| Preparation Time: | 25 M |
| Cooking Time: | 40 M |
| Difficulty: | Average |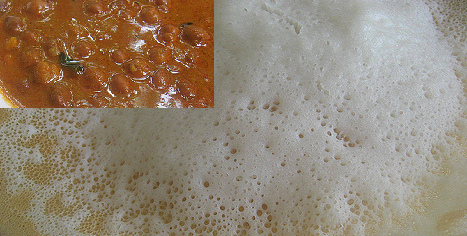 Ingredients:
For Appam
1 cup (237 ml) Coconut (grated)
½ tsp Active Dry Yeast
3 tsp Sugar
Salt to taste
2 cup (473 ml) Raw Rice(Pachari)
Thin Coconut Milk (as needed)
1 cup (237 ml) Cooked Rice
1 cup (237 ml) Coconut Water
For Kadala Curry
To roast and grind
1 2/2 cup Kadala ( Chana)
12 Red Chilies
Curry Leaves
4- 5 Shallots
2 tsp Oil
½ cup Coriander Seeds
½ cup Grated Coconut
3-4 Cloves Garlic
¼ tsp Turmeric Powder
To Season
Small pieces of Coconut (Optional)
1 tsp Coconut Oil
1/4 tsp Mustard Seeds
2 tsp Minced Shallots
2 springs Curry Leaves
Cooking Instructions:
Appam
First soak raw rice for 4-5 hours.
Grind the rice to a smooth batter with grated coconut.
Soften yeast in 1 cup of coconut water for ½ hour.
Add soften yeast to the above ground batter.
Then add sugar and salt as well.
Take a pan and heat it.
Pour a ladle full of batter and gently swirl the pan around such that a thinner layer of batter covers the sides and a thicker fatter layer settles in the middle.
Cover the pan with the lid and cook until the edges are golden and the center portion become soft.
Take out the Appam from the pan with care and keep it in a serving plate.
Kadala Curry
Soak chana overnight and pressure cook it with salt till soft.
Drain the water in which cooked.
Heat a thick bottomed pan with 2 tsp of oil.
Roast coriander seeds for 5-7 mins in medium flame.
Put red chilies, garlic, coconut, turmeric powder and the curry leaves until the roasted aroma spreads around.
Add shallots and fry for a min.
Grind to smooth paste adding enough water.
Now pour the paste over the cooked chana in the pressure cooker, bring to a boil and simmer until raw smell of the spices disappears.
Then heat oil in a pan, and put splutter mustard seeds, curry leaves and brown the coconut pieces.
Pour this to the curry.
Suggestions: