Lauki Paratha
| | |
| --- | --- |
| Serves: | 4 |
| Recipe Type: | Veg. |
| Calories Per Serving: | 205 |
| Preparation Time: | 15 M |
| Cooking Time: | 20 M |
| Difficulty: | Easy |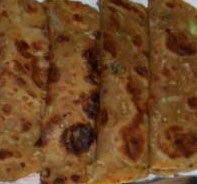 Ingredients:
2 Green Chilies (finely chopped)
¼ Chili Powder
½ tsp Amchur (Dried Mango Powder)
4 tbsp Dhania Patha (Coriander Leaves) (finely chopped)
1 tbsp Dhania (Coriander Powder)
2 tbsp Fennel Seeds (Saunf)
2 cups (473ml) Lauki (Bottle Gourd) (grated)
3/4 cup (177 ml) Gehun ka Atta (Whole Wheat Flour)
1/2 tsp Garam Masala
Salt to taste
Cooking Instructions:
Take a pan and heat up oil.
Put saunf and cook for ½ min.
Add garam masala, green chilies, coriander powder, chili powder and cook for 2 min.
Put lauki, salt and cook on low flame for 5 min till it turns brown in color.
Add amchoor and coriander leaves.
Make dough by mixing flour, salt and water.
Roll out a roti/chapati.
Put the cooked lauki in the center of the roti and cover the lauki with roti with all sides
Make a ball again.
Roll out in the form of paratha.
Toast it on a tawa till the roti becomes golden brown in both sides.
Suggestions:
Serve hot with curd and chutney