Malabar Biriyani
| | |
| --- | --- |
| Serves: | 4 |
| Recipe Type: | Non Veg. |
| Preparation Time: | 75 M |
| Cooking Time: | 80 M |
| Difficulty: | Average |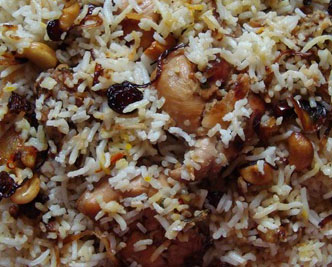 Ingredients:
For Rice:
1 tbsp Clarified Butter (ghee)
5 small pieces Cinnamon (Karugapatta)
1 Bay Leaf (Vazhana/karuga ela)
5 Cardamom (Elakka)
5 Cloves (Grambu)
1 Onion (chopped)
250 gm Broken Rice (cleaned)
500ml Water
Curry Leaves as required
For Chicken Marinade:
1/2 kg Chicken
1/2 tsp Cumin Seeds (Jeerakam)
1 tsp Coriander Seeds
1/2 tsp Fennel Seeds (Perinjeerakam) Powder
25 gm Coriander Leaves
25 gm Mint Leaves (Pudhina)
10 gm Curry leaves
1/2 cup Yogurt/Curd
25 gm Green Chillies (chopped)
20 gm Garlic
2 tsp Ginger (chopped)
1/2 tsp Turmeric Powder
1 tsp Lime Juice
1 tsp Poppy Seeds (Khashakhasha) Paste
For Biryani Masala:
2 tbsp Clarified Butter (ghee)
6 small pieces Cinnamon (Karugapatta)
1 Bay Leaf (Vazhana/Karuga ela)
5 Cloves (Grambu)
5 Cardamom (Elakka)
1 Nutmeg (Jathikka)
100 gm Onion (sliced finely)
1Tomato (medium) (cut into 4 pieces)
For garnishing:
1/2 cup Cashews & Raisins (roasted in ghee)
Cooking Instructions:
In a large bowl mix all the ingredients mentioned above for chicken marinade.
Refrigerate the marinated chicken for at least an hour.
For preparing rice, heat clarified butter in a pan.
Into it add bay leaf, cinnamon, cardamom seeds, curry leaves and cloves.
Once the spices splutter add onion and sauté it until they are soft.
Add rice, fry until the rice becomes translucent.
Add water and let it boil.
Once it boils put it in low flame and cook it covered for 15 minutes.
For the masala, take a pan and add clarified butter into it.
Once it melts add cinnamon, cloves, cardamom and bay leaf.
Into it add onions and sauté till it is brown in color.
Into that add tomatoes and sauté it well.
Once tomatoes are sautéed well add marinated chicken.
Cook it covered for 5 minutes over a medium flame.
Take the cover and cook over a low flame until chicken is cooked properly and the gravy thickens.
In a serving bowl layer rice and chicken masala alternatively until whole of the rice and the gravy is emptied.
Garnish it with cashews and raisins.
Suggestions:
Serve it hot with raita, pappad.