Diabetic Salad
| | |
| --- | --- |
| Serves: | 3 |
| Recipe Type: | Veg. |
| Calories Per Serving: | 271 |
| Preparation Time: | 10 M |
| Cooking Time: | 15 M |
| Difficulty: | Easy |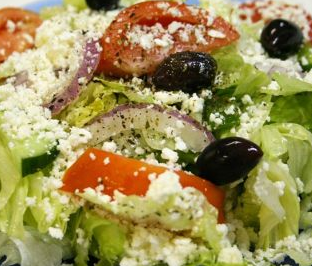 Ingredients:
1 clove Garlic
1 Lettuce (shredded)
3 Tomatoes (chopped)
1 Cucumber (sliced)
6 Green Onions (Spring Onion) (sliced)
3 Stalks Celery (diced)
1 Green Pepper (Capsicum) (diced)
6 Radishes (sliced)
1 Carrot, (shredded)
2 tbsp Fresh Parsley (chopped)
Salt to taste
1/8 tsp Pepper
1/4 cup Olive Oil
1 tbsp Vinegar or Lemon Juice
1 Beet (canned or cooked sliced)
4 oz Feta Cheese (crumbled)
8 Ripe Olives
1/4 cup Chick Peas (cooked)
Cooking Instructions:
Rub large salad bowl with garlic.
Combine next 11 ingredients (lettuce, tomatoes, cucumber, green onions, stalks celery, radishes, capsicum, carrot, parsley, pepper) in the bowl.
Toss lightly with olive oil and vinegar.
Garnish with border of sliced beet and feta cheese.
Arrange olives in center and sprinkle chick peas over all.
Diabetic salad is ready to serve.
Suggestions: