Falooda Ice Cream
| | |
| --- | --- |
| Serves: | 5 |
| Recipe Type: | Veg. |
| Calories Per Serving: | 217 |
| Preparation Time: | 60 M |
| Cooking Time: | 25 M |
| Difficulty: | Average |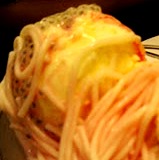 Ingredients:
250 ml Ice Cream (Vanilla)
1000 ml Milk
1/2 cup White Cream (whipped finely)
2 ½ tbsp Falooda Seeds
1 packet Rose Syrup
2 tsp Rose Essence
1/2 cup Almonds (crushed roughly)
1/2 cup Pistachios
1 cup Vermicelli
Cooking Instructions:
In a water content vessel soak the vermicelli seeds.
At low heat simmer the milk in a vessel and stir it to a condensed form.
Put the vessel aside to cool it down and later mix rose essence to it.
Pour water into a vessel and add the vermicelli then at low temperature simmer it for 10 minutes.
Once the vermicelli becomes tender and soft then strain it out by adding extra quantity of cold water.
As per to the direction given in the packet prepare the rose syrup.
Shift the rose concentrated syrup to a large bowl and add a cup of sweetened milk.
Mix it properly before pouring it to cylindrical tall glasses.
Decorate it with dollop of Falooda seeds and 4 strands of vermicelli.
Top it with a scoop of vanilla ice cream and sprinkle of crushed nuts.
Suggestions:
Serve it with wafer or strawberry.