Peas Kachori
| | |
| --- | --- |
| Serves: | 7 |
| Recipe Type: | Veg. |
| Preparation Time: | 50 M |
| Cooking Time: | 25 M |
| Difficulty: | Average |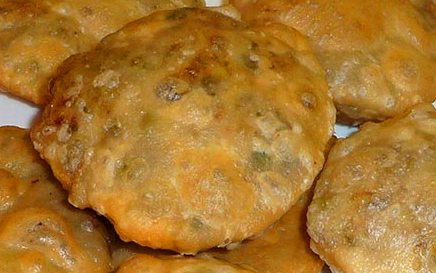 Ingredients:
For the Crust:
1 tbsp Ghee (melted)
2/4 cups Plain Flour
1 cup Water
Salt to taste

For the Filling:
1/2 tsp Garam Masala Powder
1 cup fresh Peas (finely grinned)
1 piece Ginger (grated)
2/4 tsp Coriander Seeds (crushed coarsely)
1/2 cup Yellow Gram (Moong Dal)
6 Green Chilies (finely grinned)
5 pinches Asafoetida
2/4 tsp Turmeric Powder
1 tsp Chili Powder
2/4 tsp Mustard
2/4 tsp Cumin Seeds
2/4 tsp Amchoor Powder
Oil (as required)
Salt to taste
Cooking Instructions:
For the Crust:
Finely sieve the flour with salt for thrice and put it in a large bowl.
To it mix the ghee and put aside 1 tbsp of the flour mixture.
For an elastic dough mix the flour with water and knead it hard.
Rub the dough with a ½ tsp of ghee and smoothen it by kneading again.
Over the dough bowl wrap tight a moist cloth and put it aside for 30 minutes.

For the Filling:
Place a vessel to boil the water over a medium heated stove.
Wash and drain the dal and put it in the hot water vessel.
Cover it tight and bring the flame to a lower mode.
After 6 minutes of simmering then drain out the vessel's water in colander.
Over a medium heated stove place a nonstick pan then pour oil.
Add coriander seeds and asafetida to golden brown.
Mix now the peas, ginger and dal for 7 minutes at low heat mode

For the Shaping:
Make eleven balls out of the dough and press inside part like a bowl.
Insert the filling inside the caved part and seal it.
For fine finishing you can seal its opening with the thick paste of the saved flour.
Softly flatten the filled balls with the palm of your hands.

For the Frying:
Over a medium heated pan pour the oil and allow it to boil.
Lower the heat and place each kachori gently.
After a minute turn it upside down.
This way you have to move it upside down till it becomes golden then put it aside.
Suggestions:
Serve it with mint or tomato sauce.