Coconut Rolls
| | |
| --- | --- |
| Serves: | 3 |
| Recipe Type: | Veg. |
| Calories Per Serving: | 356 |
| Preparation Time: | 10 M |
| Cooking Time: | 15 M |
| Difficulty: | Easy |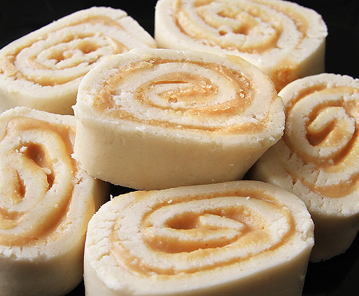 Ingredients:
2 cups Sugar (granulated)
2 tbsp Cornstarch
2 tbsp Butter
1 pinch Salt
½ cup Golden Raisins (Dried Grapes) (chopped)
½ cup Nuts (Cashewnuts, Badam) (chopped)
2 tbsp Coconut (powered) (toasted)
Toasted Coconut (additional) (for rolling)
1 tsp Vanilla Extract
1 cup Cream
Cooking Instructions:
Combine sugar and cornstarch in large, saucepan, mixing well.
Add cream, butter and salt and bring to a boil over medium heat.
Cook to the soft ball stage.
Remove from heat.
Cool to room temperature. Beat with a heavy wooden spoon until creamy.
Add raisins, nuts, coconut, and vanilla. Continue beating until mixture can be handled.
Turn onto a flat surface dusted with powdered sugar.
Knead until smooth and creamy.
Shape into a roll.
Roll in additional toasted coconut, if desired.
Suggestions:
To serve, slice with a sharp knife into serving pieces. Store tightly wrapped.