Pepper Mushroom Fry
| | |
| --- | --- |
| Serves: | 4 |
| Recipe Type: | Veg. |
| Calories Per Serving: | 32 |
| Preparation Time: | 25 M |
| Cooking Time: | 25 M |
| Difficulty: | Easy |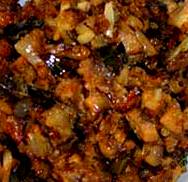 Ingredients:
500 gm Mushrooms (chopped in the middle)
10 Dry Red Chilies
8 Garlic (minced)
2 Onions (finely sliced)
4 cardamoms (crushed)
4 Cloves (crushed)
1 Stick Cinnamon
50 gm Ginger (finely ground)
½ tsp Turmeric Powder
1 tbsp Coriander Seeds
1 cup Curd
2 tsp Lemon Juice
1/4 cup Coriander Leaves (chopped)
3 tbsp Oil
Salt to taste
Cooking Instructions:
Place a frying pan over a medium heat stove and roast the chilies dark and put it aside.
Pour 2 tsp of oil over the heated pan then fry the coriander seeds and garlic for three minutes.
Once it is done then put it along with the above ingredients into the blender to grind it in a smooth paste.
Over a medium heated stove place a saucepan and add oil to it to fry the onions golden.
Keep the fried onions aside to add the ingredients like cinnamon, cardamom and cloves to it for fry.
Stir the ingredients for two minutes till it emits an aroma, then add the mushrooms, turmeric and salt.
After five minutes, add the spices and stir it for two minutes.
Pour curd into it and stir it for five minutes till it becomes dry.
Once everything is cooked then add the lemon juice.
Top it with fried onions before serving and chopped coriander.
Suggestions:
Best serve it with rice, roti, pulao or naan.