Korma Vegetable
| | |
| --- | --- |
| Serves: | 4 |
| Recipe Type: | Veg. |
| Calories Per Serving: | 154.5 |
| Preparation Time: | 20 M |
| Cooking Time: | 30 M |
| Difficulty: | Average |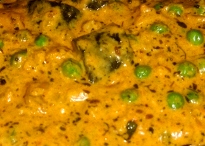 Ingredients:
1 Capsicum (chopped)
1 cup Peas (fresh)
1 stick Cinnamon (crushed)
1 Onion (finely ground)
5 Green Chilies (finely chopped)
10 cloves Garlic (crushed)
3 Cardamom (finely crushed)
2 Carrots (chopped in small cubes)
7 Beans (chopped)
1 Horse Radish (Mulli) (chopped in small cubes)
2 Potatoes large (chopped in small cubes)
3 Tomatoes small
100 gm Peanuts (roasted)
½ tsp Red Powder
½ tsp Turmeric Powder
½ tsp Dhania Powder
1 tsp Hot Spice (Garam Masala)
2 Bay Leaves
1 bunch Coriander Leaves (finely chopped)
½ cup Tamarind Water
6 tbsp Oil
Salt to taste
Cooking Instructions:
In a food processor insert the roasted peanuts with tamarind water and grind it finely like liquid paste.
At a medium heat place the pan and pour oil into it then mix the hot spices.
For a minute stir fry the ingredients then add the onions.
Saute till golden brown then add the garlic and ginger paste to it with mix of salt.
Stir for two minutes then add the chopped vegetables, leaving a handful of coriander and keep stirring.
Seven minutes later pour the water over the pan and allow it to boil.
Lower the flame and seal tight the lid of the pan.
Allow it to simmer for seven minutes till the ingredients become tender.
Remove the lid and stir it for a minute then garnish with chopped coriander over it.
Suggestions:
Best serve with rice, idlis, roti or dosas.