Gobi Aloo Masala
| | |
| --- | --- |
| Serves: | 3 |
| Recipe Type: | Veg. |
| Calories Per Serving: | 241.2 |
| Preparation Time: | 10 M |
| Cooking Time: | 20 M |
| Difficulty: | Easy |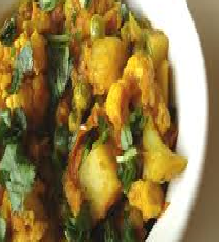 Ingredients:
1 whole Cauliflower (florets)
4 Potatoes (chopped in blocks)
1Onion (chopped lengthwise)
1/2 tsp Turmeric
2 tsp Cumin Powder
2 tsp Coriander Powder
2 tsp Red Chili Powder
1 tsp Garam Masala
5 Cilantro leaves (coriander) (few sprigs for garnishing)
1 tbsp Oil
Salt to taste
Cooking Instructions:
Wash and drain the separated Cauliflower florets.
Cut Potatoes into Chunks.
Heat Oil in a Pan, add Onions and fry till translucent.
Add ginger, garlic Paste, stir, Mix in Potatoes, cover to cook.
Once the Potatoes are half done, add the florets
Add turmeric and salt. Cover to Cook. Open after a few minutes,
Add all the dry powders & mix. Garnish with Cilantro leaves.
Suggestions:
Serve hot with Breads, Rice, and Roti's or as a side dish.