Fish Rice
| | |
| --- | --- |
| Serves: | 4 |
| Recipe Type: | Non Veg. |
| Calories Per Serving: | 166.65 |
| Preparation Time: | 30 M |
| Cooking Time: | 30 M |
| Difficulty: | Average |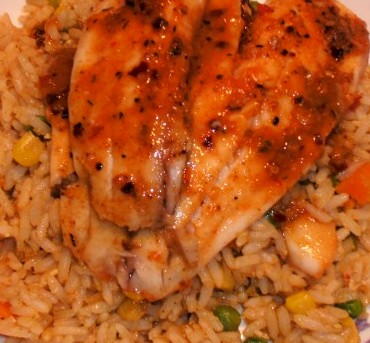 Ingredients:
4 cup Rice (boiled)
3 Onions large (finely grinned)
2 Tomatoes large (finely sliced)
3 Cloves (finely grinned)
3 Anise (crushed finely)
2 tsp Coriander Seeds (finely grinned)
1 tsp Turmeric
50 gm Peas
50 gm Corn
200 gm Yogurt
250 gm Fish (sliced)
4 tbsp Butter
Salt to taste
Cooking Instructions:
Marinate the fish by mixing it with yogurt, salt, onions and all spices.
Put it in the fridge for an hour.
On to a medium heat flame place a non-stick pan and add the butter.
Fry the fish slices golden brown and put it aside.
Add the marinade liquor in a baking pan, fish and butter.
Top it with rice, tomatoes, peas, corn, butter and rest of the marinade liquid then bake it for half an hour in a preheated oven.
Once the oven lid becomes cool open it after switching it off then stir the mixture.
Suggestions:
Serve best with tomato curry or mint mixed chili sauce.