Dum Ka Murgh
| | |
| --- | --- |
| Serves: | 4 |
| Recipe Type: | Non Veg. |
| Calories Per Serving: | 38 |
| Preparation Time: | 30 M |
| Cooking Time: | 30 M |
| Difficulty: | Average |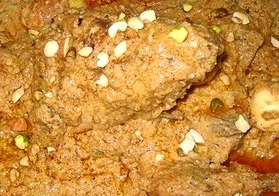 Ingredients:
10 gm Ginger Paste
20 gm Garlic Paste
1 tsp Chili Powder
Two pinch Saffron
½ tsp Hot Spices (Garam Masala)
2 tsp Cardamom Powder
1 tsp White Pepper
1 tsp Saffron
½ tsp Mace
10 gm Brown Onion Paste
10 gm Almond Paste
20 gm Ground Flour
3 tbsp Yogurt
7 Chicken Pieces
20 gm Clarified Butter (Ghee)
Cooking Instructions:
Marinate the chicken with all the ingredients except for ghee.
Leave it in the fridge for 5 hours.
Warm the saucepan and pour the ghee.
Take out the chicken from the fridge and stir it again before laying it over the ghee.
Stir the pieces upside down to cook well on both sides.
Mix the remaining marinade paste to it.
Lower the flame and seal the saucepan.
Allow it to simmer for fifteen minutes.
Open the lid and stir it well for five minutes and cover it.
Ten minutes later check whether it is cooked or not.
Suggestions:
Best serve it hot with roti, rice or veg-briyani.