Chinese Vegetable Fried Rice
| | |
| --- | --- |
| Serves: | 4 |
| Recipe Type: | Veg. |
| Calories Per Serving: | 250 |
| Preparation Time: | 20 M |
| Cooking Time: | 30 M |
| Difficulty: | Average |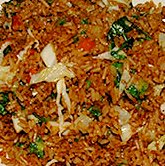 Ingredients:
1 cup Beans (finely chopped)
250 gm Rice (soaked 4 hrs)
3 Carrot (finely chopped)
½ cup Peas(fresh)
2 Onions (finely grinned)
3 Spring Onions (chopped cube)
40 gm Garlic paste
3 Cabbage Leaves (finely chopped)
3 Green Chilies (sliced in mid)
1 tsp Ginger paste
3 tbsp Soya Sauce
3 tbsp Butter
½ tsp Pepper
Water (as per requirement)
Salt to taste
Cooking Instructions:
At high heat place a saucepan with water and shift the soaked rice to it and half cook it.
Put the saucepan aside and drain out the water then shift the rice.
Over the flame place the saucepan and add butter to it.
Add the onion paste and saute it till golden then add the other pastes.
Stir it for two minutes then add the dry spices and stir for three minutes till you feel the aroma.
Shift the vegetables to it and cook it for 4 minutes at high flame with add of salt.
Lower the flame and cover it for three minutes then open the lid.
Add rice and soya sauce and stir everything vigorously.
Lower the flame and cover it and allow it to simmer for five minutes till all the ingredients are tender.
Suggestions:
Best serve it with chicken gravy, chicken steaks or spicy curry.