Vegetable Kofta
| | |
| --- | --- |
| Serves: | 4 |
| Recipe Type: | Veg. |
| Calories Per Serving: | 471 |
| Preparation Time: | 50 M |
| Cooking Time: | 40 M |
| Difficulty: | Average |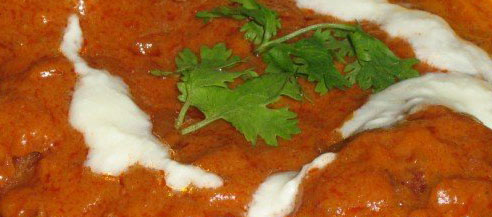 Ingredients:
For the Koftas:
2 Potatoes
2 Carrots
1 Beetroot
1 cup Peas
2 slices Bread
1 Serrano Pepper (finely chopped)
1 Onion (chopped)
1 tsp fresh Ginger (minced)
1 tbsp Cilantro (chopped)
1 tsp Salt
Vegetable Oil (for deep frying)
For the Gravy:
2 tbsp Butter
2 medium Onions (chopped)
1 tsp Ginger (minced)
2 tbsp Garlic (minced)
2 tsp Coriander (ground)
1/2 tsp Turmeric (ground)
1/2 tsp Garam Masala
1/2 cup Tomato Paste
3/4 cup Milk
Salt to taste
For Garnish:
1/4 cup Cream (optional)
2 tbsp Cashews (coarsely chopped)
Cooking Instructions:
Pressure-cook the vegetables for 2 whistles.
Mash the vegetables well once they are cooked.
Moisten the bread slices in water for 2 minutes. Squeeze out the excess water.
In a bowl mix the vegetables, Serrano, onion, ginger, cilantro and salt.
Form small balls out of it.
Take a deep frying pan and heat oil.
Put the vegetable balls and fry it until the color turns golden brown.
Drain the fried koftas on paper towels and let it cool.
Meanwhile in a large saucepan, melt butter.
Add onions, ginger, garlic, coriander, turmeric and garam masala.
Sauté it well until the onion is softened.
Into it add tomato paste and cook for another 5 minutes.
Add milk and salt into the mixture.
Cook the mixture for 10-15 minutes until the gravy thickens by stirring occasionally.
Add the koftas into the gravy and let it boil for another 3 minutes.
Garnish it with cream and cashews before serving.
Vegetable kofta is all ready to take up your appetite!
Suggestions:
Serve best with roti, naan and chapathi.