Baby Corn Manchurian
| | |
| --- | --- |
| Recipe Type: | Veg. |
| Difficulty: | Average |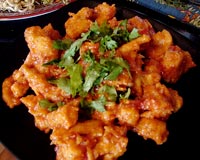 Ingredients:
15-20 Baby corn
5 tsp Rice flour
15 tsp Corn flour
2 tsp Ginger-garlic paste
1-2 tsp Chili-garlic sauce
1 tsp Soya sauce
2 tbsp Cashew peanut powder
2 tbsp Fresh coriander leaves, washed and chopped, for garnishing
2 Medium onions, finely chopped
4 Green chilies, washed and chopped
2 Garlic cloves, washed, peeled and finely chopped
Tomato sauce, as required
Oil for deep frying
Salt to taste
Cooking Instructions:
Boil babycorns in a little salty water.
Take a bowl and mix corn flour, rice flour, tomato sauce, ginger-garlic paste, a little salt and the parboiled babycorns.
Pour oil in a pan and heat it.
Now fry the babycorns.
Remove them from the pan and drain out excess oil on clean paper towels.
Pour 3 tbsp oil in a pan and heat it.
Add onions, green chillies and garlic, saute until golden brown.
Add the deep-fried baby corns, soya sauce, tomato sauce, chilli-garlic sauce and salt to it.
Fry for about 10 minutes over medium heat.
Garnish Babycorn Machurian with cashew-peanut powder and corriander leaves.