Ragda Pattice
| | |
| --- | --- |
| Serves: | 3 |
| Recipe Type: | Veg. |
| Calories Per Serving: | 756.5 |
| Preparation Time: | 15 M |
| Cooking Time: | 20 M |
| Difficulty: | Easy |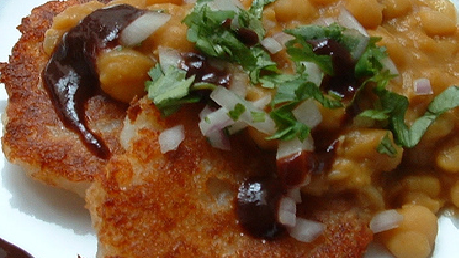 Ingredients:
For Ragda:
250 gms Peas (white)
2-3 Green Chilly
1/2 tsp Garam Masala (powder)
1/2 tsp Red chili (powder)
1/4 tsp Turmeric (haldi)
1/2 tsp Cumin Seeds (jeera)
3 Curry Leaves (kadhi patta)
1 tbsp Oil
Salt As per taste
For pattice:
500 gms Potatoes
2 tbsp Corn Flour
1 Green Chilly
Salt As per taste
Cooking Instructions:
For ragda:
Soak white peas in water for about six hours.
Boil with haldi till done. Add salt, mash a little.
Heat 1 tbsp. of oil; lightly fry jeera, kadhi patta, chili powder and Garam Masala Powder to make vaghar.
Season the ragda with the vaghar (Tadka Pan).
For pattice:
Boil potatoes, peel & mash them, add corn flour, finely cut green chilies and salt.
To make the pattice, make small balls of the potato mix and then apply slight pressure to flatten it evenly.
Heat the Tava, put a little oil on it & fry pattice gently on both sides. Fry on medium heat. Keep aside.
Suggestions:
Serve hot with Tamarind Chutney and sliced onions.