Boti Kebab
| | |
| --- | --- |
| Recipe Type: | Non Veg. |
| Difficulty: | Average |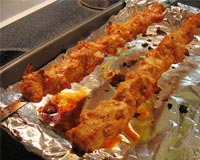 Ingredients:
200 gms Meat (Lamb)
1/2 Cup curd
2 Ginger
5 Garlic flakes
1 Large onion
1 tsp Coriander powder
5 tsp Red chilli powder
1/2 tsp Turmeric powder
1/2 tsp Cumin seed powder
6 Cloves
Salt to taste
Cooking Instructions:
Wash the meat and cut into cubes.
Grind garlic, ginger, onion, coriander, cumin, red chilli, turmeric powder and curd to make a mixture.
Marinate the meat cubes in this mixture for 1 hour.
Stick the meat onto skewers.
Grill it for 20 minutes.
Garnish it with onions.