Vegetarian Chinese Noodles
| | |
| --- | --- |
| Serves: | 2 |
| Recipe Type: | Veg. |
| Preparation Time: | 20 M |
| Cooking Time: | 30 M |
| Difficulty: | Average |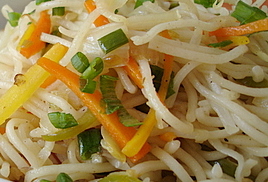 Ingredients:
350 to 400g Noodles (cooked)
2 stalks Celery (sliced)
½ White Onions (sliced)
1tbsp Cold Water
1 tbsp Hot Sauce
3 cups Baby Bok Choy (chopped)
Salted Water
2 tbsp Roasted Peanuts (chopped)
1 tbsp Cornstarch
1 cup Vegetable Stock
2 cloves Garlic (minced)
2 tbsp Light Soy Sauce
1 tbsp White vinegar
2tps Sesame Oil
1 tbsp Vegetable Oil
1tsp Brown Sugar
Cooking Instructions:
First heat the oil in medium heat.
Add onion, celery, Baby Bok Choy, garlic to the oil and cook for about 5 minutes.
Add stock, soy sauce, hot sauce, vinegar, sesame oil and brown sugar and bring to a boil.
Stir the cornstarch in cold water and Mix this in to the wok and stir until it thickens.
On the other hand loosen noodles with your fingers adding little oil.
Immerse the noodles in boiling salted water for about a minute.
Drain well and toss it with some sesame oil.
Place the cooked noodles on a plate and put some vegetables on the top.
Sprinkle it with peanuts.
Suggestions: