Cherry Tomato Chutney
| | |
| --- | --- |
| Serves: | 3 |
| Recipe Type: | Veg. |
| Calories Per Serving: | 89.3 |
| Preparation Time: | 10 M |
| Cooking Time: | 30 M |
| Difficulty: | Easy |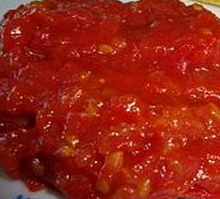 Ingredients:
1 Onion (chopped)
2 quarts Cherry Tomatoes (halved)
5-7 Apples (peeled and chopped)
2 cups Raisins
1½ cup White Vinegar
2 cup Brown Sugar
½ Jalapeno Pepper (diced finely)
2 tsp Ginger (ground)
1 tsp Cumin (ground)
½ tsp Cloves (Ground)
½ tsp Nutmeg (Ground)
3 tsp Lemon Juice
Cooking Instructions:
Cook onion in a little oil in a large pot until soft.
Add apples and tomatoes; cook 2-3 minutes on medium until the tomatoes are starting to lose their shape.
Add the raisins, vinegar, sugar, pepper, and spices.
Cook on low for about an hour or until thick.
Add lemon juice. Ladle into sterilized mason jars, stir to release bubbles, and put on lids.
Boil in a canner for 30 minutes.
Suggestions:
Preserve it and serve it fresh with roti/chapathi